Meet Dr. Gelareh Naenifard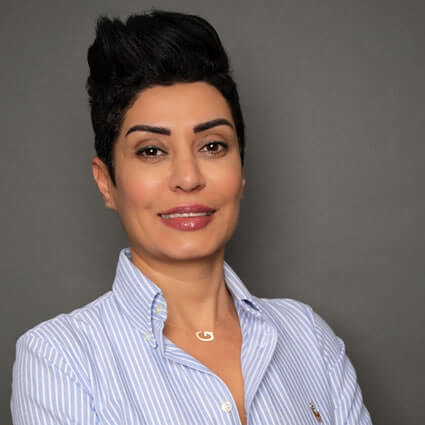 Fairmount Heights Chiropractor Dr. Gelareh Naenifard is the clinical director of Pain and Rehab Center, which she founded in 2017. She has successfully helped thousands of patients find solutions for symptoms arising from car accident injuries like whiplash, other physical trauma, neck pain, back pain, headaches, and work-related injuries.
Dr. Gela did her undergraduate work at Charleston Southern University, where she received her Bachelor of Science in Biology. While in a Master's program, a cardiologist friend suggested she look into chiropractic as a career.
At the time, she had never heard of chiropractic, so she decided to learn more about it. In 2004, she shadowed a few doctors and decided to change direction. She was accepted to Life University College of Chiropractic in Marietta, Georgia and received her Doctor of Chiropractic in December 2008.
After trying other specialties, she realized that she really enjoys treating personal injury cases. She made that her specialty and continues to provide her patients with exceptional care.
An Array of Certifications
A believer in lifelong learning, Dr. Gela currently holds many certifications including:
Medical examiner for National Registry of Department of Transportation, DOT, FMCSA, NRCME, National Registry # 9380714400
Certified Chiropractic Sports Practitioner®
Dry Needling Certification
MRI Spine Interpretation
Full Body Active Release Technique (ART)®
Spinal Biomechanical
Lumbar Rehabilitation
Accident Reconstruction
Whiplash Analysis, Head Trauma and Brain Injuries
Auto Accident Sciatica Injuries
Personal Injury Specialty Evaluations and Diagnostics
Full Body Kinesio Taping Technique
Graston® Technique
Dr. Gela is a member of the American Chiropractic Association, Maryland Chiropractic Association and Virginia Chiropractic Association.
EXPLORE OUR SERVICES
Living an Active Lifestyle
When not in the office, Dr. Gela enjoys exotic cars, off-road 4×4 driving, playing golf, tennis, and horseback riding. She also likes traveling anywhere that's warm and has a beach.
Ready to Book?
Start getting the quality care you want and deserve. Contact our office and speak to one of our friendly staff members to make your first appointment.
---
Dr. Gelareh Naenifard | (301) 925-2013